I always thought Wheeljack was interesting, he was the scientist and mad inventor of the group who in the cartoon created the Dinobots. One of the few transformers to be shown with a Cybertronian alt form.
He began life as a Takara diaclone but the finished product was not the one advertised in an 1982 catalog that showed an early concept toy. The production model had considerably less proportioned robot mode with shorter legs
1983 – TAKARA – Deluxe class – No.18 Lancia Stratos Turbo: and there is two variations using the same packaging, one was the 598 version that would later be called Exhaust but the "Group 5" 539 version became Wheeljack (to avoid copyright infringement, they changed sponsor decals by Italian airline Alitalia  to Alitalla)
1984 – Hasbro – Deluxe class – G1 Wheeljack: used this mold and color scheme with no apparent changes.
Wheeljack had an almost 20 year absence from the toy scene until 2003 when Hasbro restarted his career.
2003 – HASBRO – Deluxe class – Armada Dark Wheeljack transforms into a Black and Gold fictional gullwing door supercar and comes with his Mini-Con partner Wind Sheer who attaches to his active rooftop Powerlinx port, both his doors open up like wings. He was an Autobot but turned Decepticon and to further this he sports an Autobot symbol with a slash through it and below it is a smaller Decepticon symbol.
2004 – HASBRO – Deluxe class – Universe Wheeljack: Back to being an Autobot and closer to his original colors too. He transforms into a Kremer 962CK6 Porsche 962 Le Mans racing car.
2004 – HASBRO – Deluxe class – Universe Downshift:  sports car resembling a Mercedes-Benz SLK R170 with Red and Green stripes as a homage to G1 Wheeljack, his robot mode has Wheeljack's head. He was intended to be Wheeljack (the chest plate markings is a dead give away) but for some unknown reason his name was switched, it is speculated that trademark issues were the problem. He was repainted once for Hasbro and once for Takara.
2005 – HASBRO – Deluxe class – Alternators Wheeljack: A retool of Grimlock from the same line. He transforms into a fully licensed 2005 S197 Ford Mustang GT, painted White with Blue stripes. He is highly realistic with opening doors, hood and trunk, as well as a detailed car interior and realistic looking engine block.
2005 – TAKARA – Binaltech BT 14 Wheeljack: for this release of the Alternator figure has a slightly retooled head, different paint applications, and is partially constructed of die-cast metal.
2009 – Transformers Animated: Although he did not receive a toy he still had some screen time and his Robot mode is straight off of his G1 appearance, while his car mode has visual ques from G1 but is more of a made up car model in his familiar colors of White, Red and Green.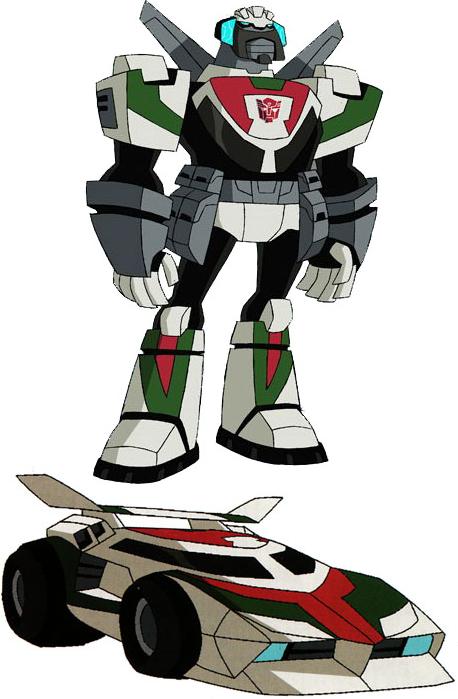 2011 – HASBRO – Deluxe class – Generations Wheeljack: is a retool of Reveal the shield Turbo Tracks, He transforms in to Jaguar F-type in White, Red and Green color scheme with a new head, wings, clip-on wrenches that replace the missile launchers, new front fenders and rear spoiler, and a modified transformation sequence with new legs so his robot mode is reminiscent of the his G1 toy.
2011 – TAKARA – Deluxe class – United Wheeljack: the same toy as the Hasbro Generations release but with metallic Green and medium Red paint on his White body. His stripes are in a different pattern and continue over the now blank rear window that was painted Grey.
2012 – HASBRO – Deluxe class – Dark of the Moon Wheeljack: Although in the movie he was named Que for being the tech genius (in homage to the Bond agent Que who gave 007 all those wonderful gadgets) but in his toys he retained the Wheeljack name. He transforms into a Blue Mercedes-Benz E550 and sports a bunch of weapons including a huge circular saw. The Takara release was not given the Wheeljack name but instead used the name Autobot Que. There are no known differences between the tow toys.
2012 – HASBRO – Deluxe class – Movie Trilogy Wheeljack: A redeco of Dark of the Moon Deluxe Wheeljack, but using a new head based on a tradional Wheeljack head but also kind of looks like the Autobot Matrix of Leadership. (this head was previously seen in the first toy's instructions) and decoed in colors closer to G1 Wheeljack.
2012 – HASBRO – Legion class – Cyberverse Star Hammer with Wheeljack: This is the first of a smaller version of him and came with a spaceship playset. His colors are the traditional White, Red and minimal Green and comes with two Blue swords.
2012 – HASBRO – Legion class – Hyperspeed Wheeljack: This toy is a redeco of the first Cyberverse toy but without the playset. His Red on White colors are more like the Takara Diaclone No.18 Lancia Stratos Turbo 598 "Exhaust" toy.
2012 – TAKARA – Legion class – EZ Collection Wheeljack: was only available in a six-pack with Bumblebee, Bulkhead, Optimus Prime, Arcee, and Ratchet. He is basically the same as the Star Hammer version (without the playset.)
2012 – HASBRO – Deluxe class – TF Prime Wheeljack: He transforms into a modified 2011 Lancia New Stratos Concept and retains the same paint scheme and twin swords (although they are silver not blue) as the Animated Cyberverse Legion class toy (but no playset.)
2012 – TAKARA – Deluxe class –  Arms Micron Wheeljack: Same as the Hasbro release although his colors are a different shade and he retains his original twin sword accessories, although they are Gray and softer plastic, and he also comes with a Arms Micron partner, Wuji who transforms into a White sword. 
2012 – TAKARA – Deluxe class – Dark Energon Series Wheeljack: a BigBadToyStore exclusive redeco of Deluxe Class Wheeljack, and is cast in translucen Blue, Gray, andBlack plastics with Copper and Red accents. He was initially sold as part of a set with the Dark Energon versions of Bumblebee, Starscream, and Knock Out. He was eventually made available on his own.
2013 – HASBRO – Deluxe class – Beasthunter Wheeljack: He now comes with a large pole-arm with the spearhead sculpted to resemble a dragon's head, and can launch a disc. His color scheme is back to White, Red and Green with some Copper. He has spikes all over his car mode and is an extensive retool of the first TF Prime toy.
2013 – TAKARA – Deluxe class – Go! Hunter Wheeljack: a simple repaint of the Hasbro Beasterhunter toy in slightly different shades of the accent colors and the Spear and wing colors have been changed.
2014 – Takara – Masterpiece – Wheeljack: transforms into an officially licensed Lancia Stratos with proper "Alitalia" markings and the 539 racing number in a very G1 inspired stripes in his normal Red and Green on a White toy. This mold was redecoed and retooled into MP-23 Exhaust who he shared the original Diaclone mold with.
Well we are done, thanks for reading along and see you soon.