For movies Product placement is everything to keep those budgets in place but with the Transformers Movies they take the Product Placement a bit further and make Robots out of them forcing product placement into the forefront. So I thought it would be fun to look into this and report these walking commercials inside a commercial for a toys.
Transformers live action movie of 2007 had a bunch of these things and they were made by the Allspark when they came into contact with the energy from the cube.
Name: Dispensor – Product: Mountain Dew – Alternate form: Pop Machine – Toy: Yes but he turns into a "Mountain Dew" inspired delivery truck and the Logo has been changed to "Mood Wiplash". He is a redeco / retool of Payload and has pop machine like markings on his roof.
Name: Nokia Bot – Company: Nokia – Alternate form: N93i cell phone  – Toy: No
Name: Steering Wheel Robot – Company: Cadillac – Alternate form: Escalade Car Steering Wheel – Toy: No
Name: Xbox 360 Robot – Company: Microsoft – Alternate form: Xbox 360 Game console – Toy: No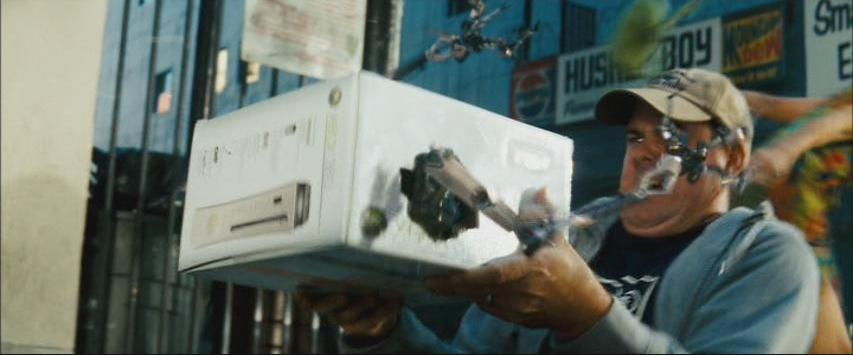 Transfromers Revenge of the Fallen had a group of these guys made a chunk of the Allspark called the Appliancebots 
Name: CISCO Aironet – Company: Cisco – Alternate form: WRT610N Wireless Router – Toy: No
Name: Blenderbot – Company: Cuisinart – Alternate form: SmartPower Duet Blender – Toy: No 
Name: Dyson Vacuum Cleaner – Company: Dyson – Alternate form: DC25 Vacuum – Toy: No 
Name: Microwave bot  – Company: GE – Alternate form: Spacemaker II Microwave Oven – Toy: No 
Name: Ejector  – Company: Dualit – Alternate form: AS 3112 standard Toaster – Toy: Yes, He transforms into a British made toaster with american plug.
Age of Extinction also got into the act with product placement:
Name: Oreo Transformer  – Company: Nabisco – Alternate form: Cookie vending machine  – Toy: No He was created by humans and killed by Autobots and had one line.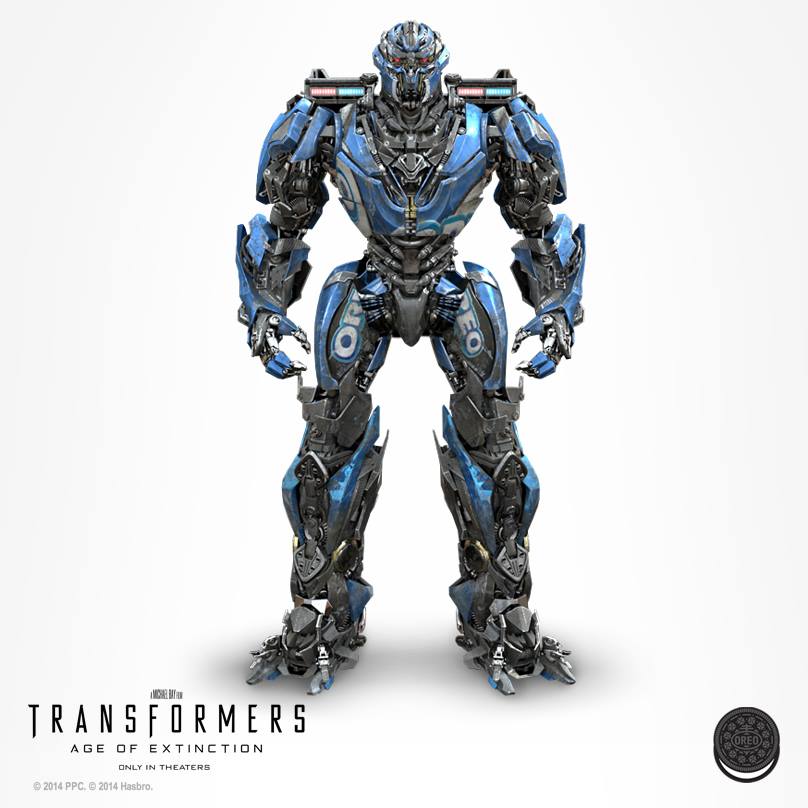 Transformers has had a lot of partnerships with other companies and have come out with special transformers either that resemble the product or have logos on them.
Name: Optimus Prime  – Company: Pepsico – Alternate form: Pepsi delivery transport truck  – Toy: Yes, There are three versions, the first 2 were in 1985, were basically just Pepsi stickers on the trailer, the American version has a small sticker while the Canadian version has a full trailer sticker and the cab is Blue instead of his normal Red. The 2005 version replaces the trailer altogether with a flatbed that has special brackets that hold a Pepsi bottle that is included, he also sports a Pepsi inspired paint job with the bottom part of his cab is Blue and his White line has a wave to it on the sides similar to the Pepsi line. He also has Red and White lines added to his legs and a Pepsi logo on his left shoulder
Name: Megatron  – Company: Nike – Alternate form: Nike Free 7.0 shoe  – Toy: Yes a none wearable running shoe.
well this is a very small post and I got it out a bit late, I have family in town so it was hard to sit and write, anyways I hope you enjoy it and see you next time.