As Transformer jets go Starscream is the top flyer in the Decepticon ranks, leader of the Seekers and aspiring leader with a cowardly streak laced with treachery. He has mainly been a jet of one type or another over the course of 31 years in the western market with only the Alternator line to break this with a car for his alternate form. (note: I do not recognize the Action Master subline as true Transformers) So from here we dive into the realm of Starscream.
Japanese Toy maker Takara created their Diaclone line of toys, vehicles that transformed into robots, these had cockpits and came with a little robot to pilot them. out of this Hasbro chose many for Transformers and along with cars and trucks, two jets were picked. The one we will talk about today is the F-15 Robo Super-high-speed fighter type that became Starscream.
But Hasbro and Takara were not the only ones to produce transforming jet toys, "Kingdam 6" variant is in the center of a lot of controversy. First off it is unsure if it is a "Knock Off" of the Takara toy (where they either re-casted the original toy or made their own) or the company who released it were able to use the molds from Takara (who was known for renting out these molds for whatever country wanted them). I own one, and I like it. The plastic is more of pearl silver then the original release, the color scheme of the back fins are in the reverse although mine is missing the horizontal fins but I have seen examples pop from time to time. Looking at a true G1 seeker jet beside this version, you cannot tell the difference in the molds, it is all the colors leading me to think this was a rental agreement of the original molds. By and large this toy is hugely sought after by hard core collectors and even for the one I have (in bad shape, missing some parts that I paid $5 for at my local store) could score me over $50. the average collector frowns on it as a knock off and one friend says I should dump it and get an original G1 (no dumping here but originals are on the want list). It retained the Diaclone pilot which is very sought after as well (mine has it). Arguments will erupt over this toy, collecting is a personal journey… collect what makes you happy.
A little bit of Starscream trivia I picked up at a Transformer Convention: Each Character had several proposed names, Starscream was no different and two of these unused names were "Pretty Poison" and "Silver Snake".
Hasbro Transformers and Takara have issued many Starscreams, most notable are:
1983 – Takara – F-15 Robo Super-high-speed fighter type: a Grey, Red and Blue F-15 Eagle fighter jet.
1984 – Hasbro – G1 Starscream: a Grey, Red and Blue F-15 Eagle fighter jet. (the Takara remold)
1989 – Hasbro – Classic Pretender Starscream: same style as above but smaller and kind of deformed, he fitted inside a armored human shell, (the only Decepticon in the subline, the other three were Autobots). Also this year saw two reissues of the inner robot without the shell, one was a japanese exclusive and the other a K-Mart exclusive.
1993 – Hasbro – G2 Starscream: a different color scheme (darker red hull section, blue cockpit, grey camo wings) and a slight retool of his original toy, armed with new, functional spring-loaded launchers and missiles, and an electronic light-and-sound "energy unit" in the shape of a tank that lights up with the press of either button, and emits electronic "machine gun" or "jet engine" noises that attaches to either of his modes.
1996 – Although not a Hasbro Beast Wars I toy, Starscream did make into the CGI Cartoon, he was one of the dormant Transformers on the Arc and a ghost. He had died prior to the show, his spark was immortal and traveled the Galaxy, finding and possessing the Predacon Waspinator. (Beastwars characters are from the future that accidentally time jumped into the past after the G1 characters crashed on earth but before they awakened) 
1997 – Hasbro – "KB toys exclusive" Machine wars Starscream: a large bomber jet based vaguely upon an SR-71 Blackbird
1998 – Takara – Beast Wars II Starscream: a Tactical Bomber Jet with a smaller combining partner BB, this was a repaint of an unused 1995 Megatron with the smaller partner named Starscream.
2001 – Takara – E-Hobby "Black version" Starscream: first of three exclusives using the G1 mold, all in black with some gold).
2001 – Takara – E-Hobby "Ghost version" Starscream: Second of the exclusives cast almost entirely in translucent plastics "except for those parts made of die-cast metal" (in homage to Starscream's tenure as a ghost in the third season of the original cartoon.)
2001 – Takara – E-Hobby "Secret version" Starscream: Thirdly , was similar to the Ghost version but the translucent parts are all non-colored plastic. This is one of the rarest Transformers ever, limited to 5 pieces, the image was not released to much later, so people did not know what it even looked like at first.
2002 – Hasbro / Takara – Armada line Starscream: transforms into a Cybertronic jet fighter, loaded with electronic sound effects that function in both modes. (I still kick myself for not picking up a Takara version when I had a chance back in 2003 at a Japanese novelty store, stupid me!!!!)
2003 – Hasbro – Commemorative Series Toys"R"Us exclusive Starscream: exactly the same as the G1 toy but It featured functional missile launchers and because the launchers now worked, both sets of missiles had to be lengthened for safety reasons. (This would also be a Japanese reissue in 2007)
2003 – Takara – World's Smallest Transformers (WST) Starscream: he was 2 inches tall but highly detailed in every respect except its tail fins and wings are combined into single pieces.
2003 – Takara – World's Smallest Transformers (WST) Ghost Starscream: Same as the above entry but in translucent plastics (I own this version and in fact the photo is of mine, he is so small it is hard to transform him, but has little hands that clip on exactly the same as his bigger counterpart.)
2006 – Takara / Hasbro – Masterpiece Starscream: was created as an accurate an F-15 Eagle alternate mode as possible, with a somewhat more stylized robot mode with a rotating face that allows Starscream to switch his expression from stony-faced to sneering. There is quite a few customization options, with an extensive sheet of sticker decals, including variously sized Decepticon symbols, and squadron numbers and markings, including one of Waspinator (Takara merged with Tomy in 2005) He was reissued a few times by both Hasbro and Takara over the years in different paint schemes and new molds with new stuff like a cape and crown, and also a ghost mode, but one entry is enough.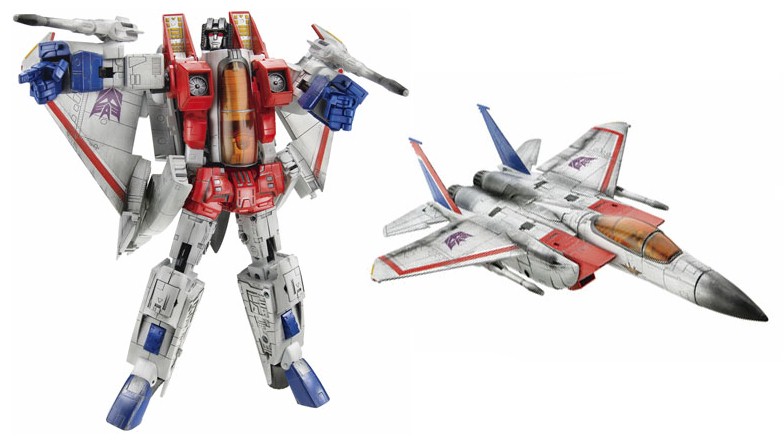 2006 – Hasbro / Takara – Classics Starscream: a modernized version transforms into a F-15 Eagle, but has the nose of an F-14 Tomcat fighter jet, he also saw a few different paint schemes along the way
2007 – Hasbro – Transformer live action movie Starscream:  This saw many many toys that transform into an officially-licensed Lockheed-Martin F-22 Raptor fighter jet. Including many sizes, exclusives and repaints over the course of the three movies he was in. one such toy is the Vardia Red Model (shown below) is an exclusive redeco of Voyager Starscream only available with Toshiba's new Vardia RD-A301 HD DVD recorder. He is extremely pinkish red, with some gold and black and Toshiba Vardia markings on his hull. With the player costing 100,000 yen at the time, this may be the most expensive Transformers exclusive to be released in relatively large quantities. (I saw one going for over $200 at a convention) Also a leader class toy was issued (very large toy and I received one for a Christmas present.)
2012 – Hasbro – Deluxe Class – Generations Fall of Cybertron Starscream: based on the video game Fall of Cybertron transforms into a Cybertronian jet fighter. Takara also released a version with metalic parts in their United line.
2014 – Hasbro – Deluxe class – Generations Armada Starscream: a modern update of the original Armada Starscream figure.
So here we pause not end, we know there will be more of Starscream and I know I missed a few here and there but I think it is enough for now, he has seen a few deaths, became a ghost but he still comes back for more and consumers and collectors will be around to buy him. Thank you for joining me, see you next time